Good morning SV families, This is just a reminder that we do not wear bathing suits on beach day, which is today. Thanks!
Hello SV Families!! Tomorrow, 5/20/22, is BEACH DAY at Summitivew.
This is just a reminder that we do not have a student council meeting tomorrow morning before school.
Hello SV Families! Our 5th graders will be going to WAMS tomorrow at 9 AM for an orientation to the middle school.
Hello SV Families! This is just a reminder that Field Day is May 23 and school is closed on May 30.

UPDATE 5/11/22: Location change for "Summer Literacy Under the Sea" - event will be held at the Alexander Hamilton Library (Community Room - 2nd Floor) Join us Saturday, May 14th from 10 AM-12 PM for "Summer Literacy Under the Sea"! Come and enjoy games, prizes and raffles!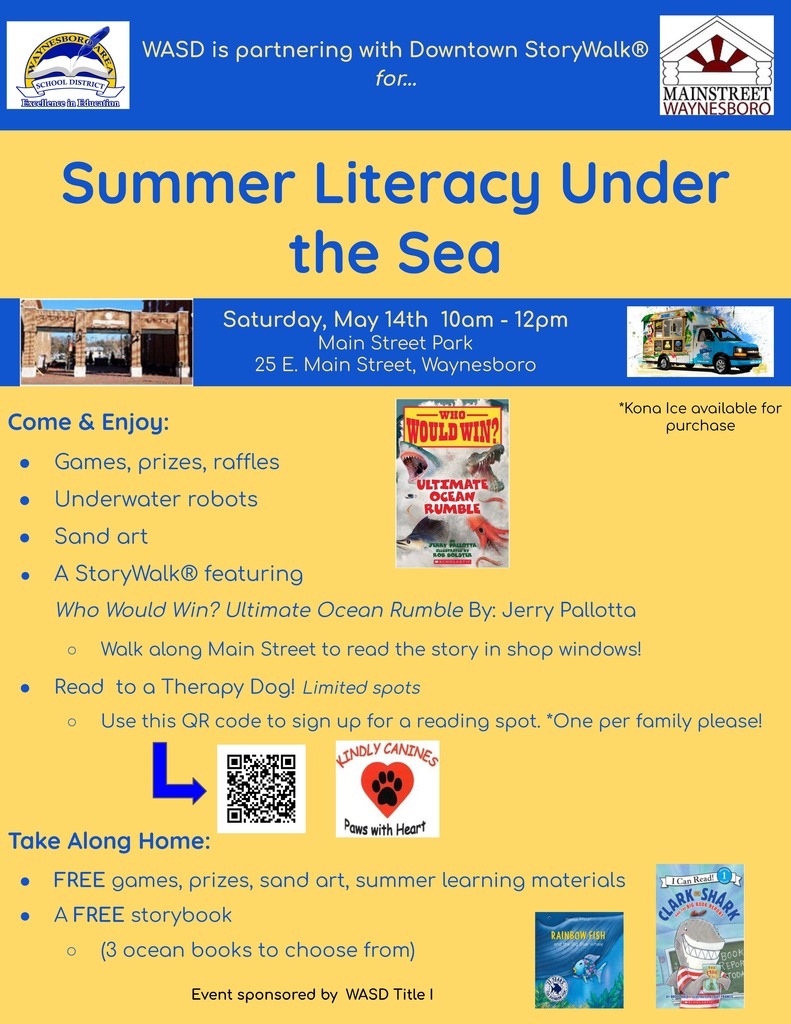 Hello SV Families!!! You will be seeing a form about volunteering at Field Day coming home soon. Here is what it looks like.
Hello SV Families! We hope all of the technical difficulties have been cleared up with our free summer activities link. If you are interested in having free educational activities for your children at home this summer please fill out the form from the link below.
https://forms.gle/vSp6Ew7QLbzUbVZe9
May 6th is TWIN DAY at Summitview. We hope our students can find a twin and if they can't they can always dress like a Summitview teacher or a staff member.
Tomorrow we are encouraging all third, fourth, fifth graders to wear a sports jersey. Tomorrow is our first day of the PSSA!!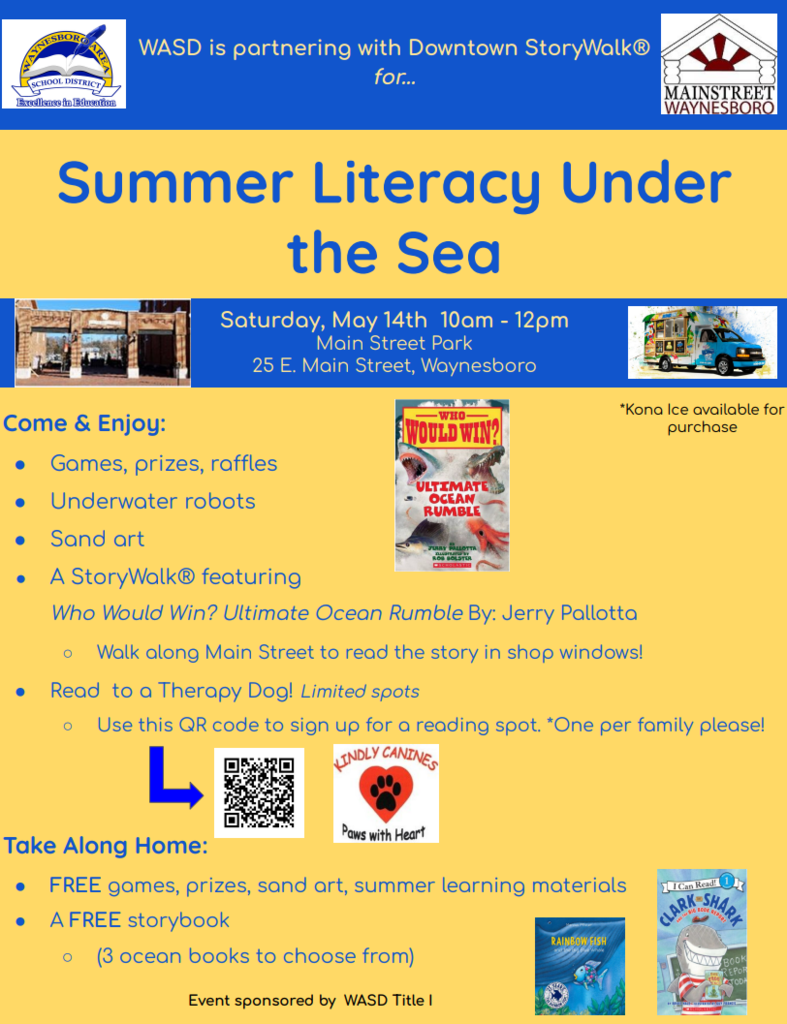 Hello SV Families If you have a child in 3rd, 4th, or 5th grade they will be starting the PSSA next week (Apr 26). Please take a look at this public site (link below) put out by PDE to help your child with the upcoming tests.
https://wbte.drcedirect.com/PA/portals/pa
-Click on "Online Tools Training" -Click on "PSSA" -Pick a topic: ELA, Mathematics, or (4th grade only) Science -Pick a grade: 3, 4, or 5 -Then you will be given a practice username and password -Sign in and practice
Our Spring Concert beings at 7 PM tonight at WAMS!! We hope to see you there!
Hello SV Families! We have been having some concerns again with our parking lot, but this time with our stop sign. When you are leaving the drop-off/pick-up driveway please remember to stop at the stop sign before heading onto 2nd Street. We have had some near misses there recently. Also, remember to drive up to the white line when dropping off or picking up your children. Thank you for your help.
Hello Waynesboro, We will be having a small ceremony on April 23, 2022, at 2 PM. We will be celebrating our 50th Anniversary. If you are interested in attending please complete the link below. Seating is limited and sign-ups end on April 4, 2022. Thank you!!
https://forms.gle/9HcroZeSWVh4NF2w9
This is just a reminder that our first graders will be performing at the middle school tonight at 6:30.
Our book fair starts tomorrow and will go until Thursday. The book fair is held in our library. If you have any questions please contact Mrs. Snowberger.
Hello Summitview Families: The Summitview Library is sponsoring a Scholastic Book Fair the week of March 28-31. Students will be attending the Book Fair during their regular library day and time. Payment can be cash or a check payable to Summitview PTO. Thanks to the generosity of our PTO, every student will be able to choose one book from the Fair (up to $6.00). Family may also shop our Online Fair. All orders ship directly home. Shipping is free on book-only orders over $25.00. Visit
www.scholastic.com/fair
and select Summitview. Please take this opportunity to help our school raise funds for library books. Thanks for your support.
Hello SV Families 3rd, 4th, and 5th grade students brought home a "passive" permission slip about Career Day. Career Day is on April 1 and it will be held at Otterbein Church Park. If you want your child to attend, you do not need to send anything back to school. However, if you do not want your child to attend- (or you do not want them to be photographed) you will need to complete the permission and return it back to school. Please let us know if you have any questions.