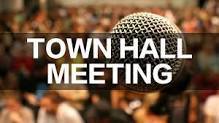 Special Event
Diane Eberhardt
Monday, November 18, 2019
Waynesboro Area School District Town Hall Presentation on
"Budgets, Funding & Financial History"
Waynesboro, PA -- November 6, 2019 -- The Waynesboro Area School District will host a Town Hall Presentation at the Waynesboro Area Senior High School Library on Tuesday, November 19, 2019 at 7:00pm. The address for the event is 550 E. 2nd Street, Waynesboro, PA 17268.
The District will present information on budgets, tax and financial history, the effects of hold harmless on state funding, unfunded mandates and district achievements.
All members of the community are welcome to join the District for this presentation. An opportunity for time for questions and answers will be provided.