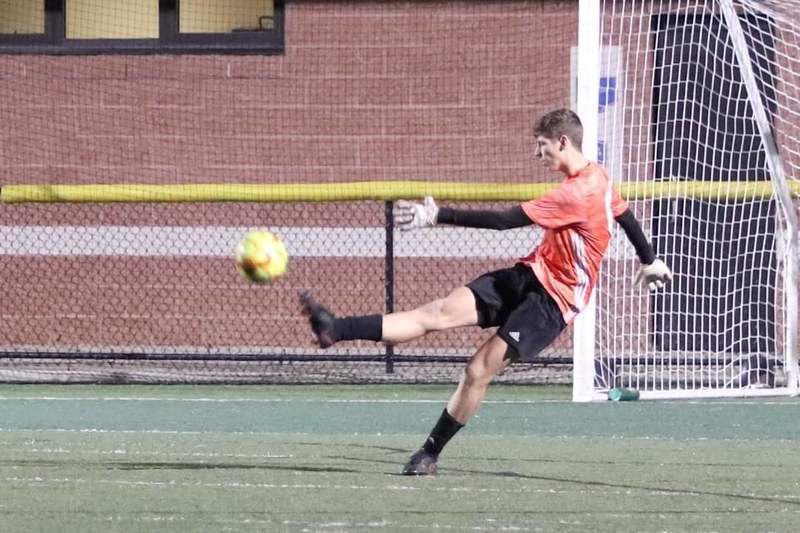 On February 4, 2022, Senior Bryson Shuall made his verbal commitment to UMBC, University of Maryland, Baltimore County, to be a goalkeeper in their soccer program. This marked the next step in his soccer career which he hopes will lead him to play professionally. He explained how the opportunity would give him the ability to improve his game and even compete for a starting position his freshman year.
As the starting goalkeeper since his freshman year, it seemed as if playing collegiately was destined, but it wasn't always the case. Due to a UCL tear in his arm, he was unable to play his 8th-grade year and his relationship with Brian Stum, the varsity head coach, during his sophomore season was described as strained. Despite all of that, in his junior year, he set out the goal to play professionally, as he said "I feel like I go a little bit further than Division 1 soccer". Through each year Bryson has played, he has become more focused and more inclined to be a leader. Corey Duesler, the JV soccer coach, described Bryson as very focused, committed, and someone the younger players look up to.
This most recent season saw a rise in responsibility for Bryson. He became the captain of the varsity team and gave a breath of life during tough games. With players leaving from the previous season such as Hayden Oldham, Josh Clapsaddle, Jackson Cordell, and other highly influential players, Bryson was left as the most experienced member on the varsity squad. And despite the tougher schedule, due to a division change the year prior, Bryson led the team within one game of Districts. Xavier Matta, a member of the JV team, said that you were able to see his passion for the game. Bryson said, "You have to surround yourself with more competition", and his leadership skills brought exactly that to Waynesboro Soccer. With his performances from this season, Bryson made the Mid Penn Conference All-Division 1st Team for the Keystone Division.
While playing soccer for the high school has been his priority for the past four years, Bryson has also continued his soccer career in other avenues including signing for Keystone FC's U23 team and playing goalkeeper alongside college commit, Mikah Seager, for Baltimore Celtic's U18/19 team. Mikah and Bryson's relationship is described by Bryson as very good, though it wasn't what he expected when they first met. Bryson thought it would be a bitter relationship between the two goalkeepers, but it was quite the opposite. Furthermore, despite not initially being interested in Keystone FC's U23 team, a friend of Bryson's was able to convince him to join and he's now excited for the competition this summer.
Including his soccer ventures, Bryson also hosts a radio show, Why Not Waynesboro, and broadcasts both the girls' and guys' basketball games. Why Not Waynesboro, found at WRGG 93.7, is a radio show that talks about all of the high school sports in Waynesboro. It is broadcasted every week on Thursdays at 9 p.m. The basketball broadcasts started last year when Eric McIlquham, the athletic director at Waynesboro, offered Bryson the opportunity to broadcast one of the girls' games. That led into this year where for the entirety of the year, Bryson co-hosted both girls' and boys' basketball games alongside fellow soccer teammate, Ben Steiger. Through both of these ventures, Bryson will have a chance to broadcast UMBC's basketball games in his freshman year.