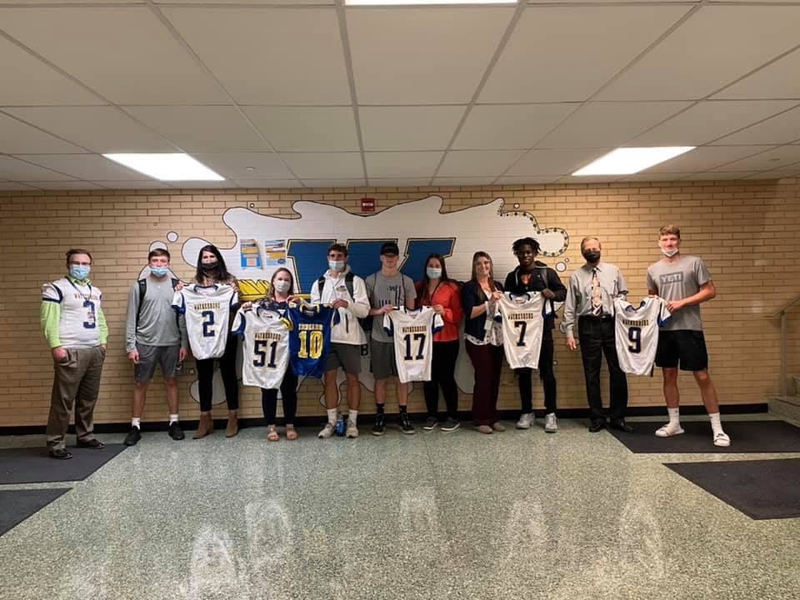 On the day of Senior Night in October, some of the WASHS football seniors gave their jerseys to a teacher. Coach Sprenkle said that the seniors were asked to write a letter to a teacher that "had a large impact on them in any way during their time here." The seniors that participated were Luke Martin, Rhyan Day, Louie Lindsay, Jesse Julias, Colby Bittorie, and Kahsyr Deputy.
Luke Martin wrote his letter to Mr.Brett. He has been Luke's homeroom teacher since freshman year as well as his senior English teacher. Mr. Brett said that he was "moved" by Luke's letter and "was very honored" to wear Luke's jersey.
Rhyan Day gave his jersey and letter to Mrs. Beisecker. She said, "I felt really honored. He's a great kid, he's a great player, and he's a great student as well."
Louie Lindsay and Landon Beckner gave their jerseys to their senior English teacher Mrs. Rachel Baker. Louie said: "She puts up with a lot. She really inspires me just to be a more patient person." Then Landon said that "She pushes me to succeed." Mrs. Baker was moved by the boys' letters and that they chose her out of all teachers at WASHS.
Jesse Julias wrote his letter and gave his jersey to Mr. Shroy. Mr.Shroy then said that it was a "true honor." He also stated that Jesse is "truly a great senior," and a "great young man and example of our community."
Colby Bittorie gave his jersey to first year teacher, Miss Yearly. Colby said that "she's an amazing teacher and she deserves it." Miss Yealy said that she was honored. She then added that "It meant a lot to me... to make that impact on students."
Finally, Kahsyr Deputy gave his jersey and letter to Mrs. Lindner. She was a past teacher of Kahsyr's. Mrs. Lindner said, "It made me feel absolutely wonderful that I made such an impact on him."