Happy National Provider Appreciation Day! WASD kindergarten team and staff would like to thank our preschool teachers, daycare providers, babysitters, caregivers, and parents for all they do to support and love our youngest learners. It is because of you that we are able to unite and create a smoother transition into kindergarten and the WASD.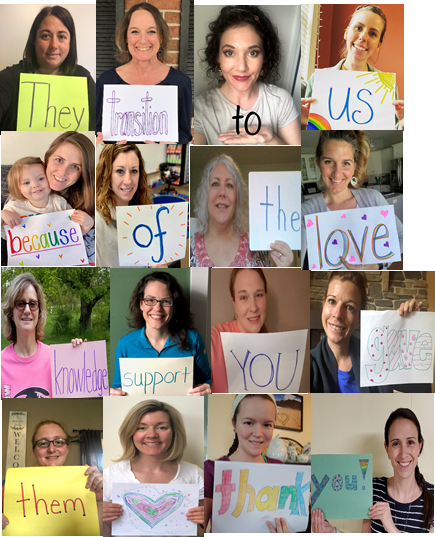 The WASD Budget Committee meeting scheduled for Tuesday, May 5th at 1 PM has been cancelled.

Ready4K Announcement - If you have a child in grades pre-k through 4th grade, on Friday, April 24, 2020, you will be invited via text messaging to participate in a program called Ready4K. Ready4K will send you one text message every Monday, Wednesday, and Friday. These messages will share tips and ideas on how to help your child at home with their academic, social and emotional development. This is a free service provided by Ready4K for our families. Please feel free to opt out of these text messages at any point. Thank you!

Due to the official closure of Pennsylvania schools for the reminder of the school year, WASD will be reaching out to learners to pick up personal items from lockers or desks. However, we are honoring the stay at home orders until April 30th. WASD learners and families will be notified of pick up options in May.

Please visit our District Websites news section for a Message from Dr. Kline - Superintendent of The Waynesboro Area School District
Waynesboro Area School District Board of School Directors has transitioned to Virtual Meetings due to COVID-19. Please visit the Virtual Board Meetings section of the website for details and public comment instructions or click here:
https://bit.ly/2xrHsTZ
Waynesboro Area School District Board of School Directors Budget Committee meeting on 4-7-20 will be held virtually here:
https://youtu.be/V7_8kmnygpk
.

Please visit our District Websites news section for a Message from Dr. Kline - Superintendent of The Waynesboro Area School District
Please visit our District Websites news section for a Message from Dr. Kline - Superintendent of The Waynesboro Area School District

In light of schools being closed through Monday, April 13 and re-opening Tuesday, April 14, 2020, enrichment materials will be available on the district website and building websites on Monday, March 30. Learners are encouraged to complete the tasks for their grade level and you may email your child's teacher with questions. If your child does not have access to technology, hard copy enrichment materials will be made available. If you are in need of a packet because your child cannot access technology at home, please call your school's main office and leave a message with your first and last name, your child/ren's first and last name(s) and grade level(s), and a daytime phone number. You will be notified about pick up time and location. Fairview - 717-762-1191 x1400 Hooverville - 717-762-1191 x1500 Mowrey - 717-762-1191 x1600 Summitview - 717-762-1191 x1800 Please note, these materials are only for those families who are unable to access the digital resources. Stay healthy, and stay Boro Strong!

​The WASD School Board meeting has been postponed and rescheduled for Tuesday, March 31st. Time and location to be determined. More information to follow.

The WASD Board Meeting scheduled for Tuesday, March 24th will be held at 210 Clayton Avenue.

​Hello incoming Kindergarten Families! At this time, the Waynesboro Area School District is postponing Kindergarten Registration. New dates for Kindergarten Registration will be determined in the near future. As new dates are determined, we will keep everyone updated through the District Facebook page and through our District Website. Building secretaries will also be notifying families of the postponement via phone call. Thank you for your understanding!

The WASD Budget Committee Meeting scheduled for Thursday, March 19, 2020 has been postponed until Thursday April 2nd at 1pm in the Clayton Avenue Board Room.​​

The WASD Policy Committee Meeting scheduled for Wednesday, March ​18th at 1:00 PM has been cancelled.
In addition to the schools being closed the Charles A. "Rip" Engle Sports Complex track and field will be closed March 16th thru March 29th. The facility will open on March 30th at this time.

On Tuesday, March 10th a letter was sent home with students in the Waynesboro Area School District issued from the Superintendent's office regarding the Coronavirus.

The Waynesboro Area Middle School and Waynesboro Area Senior High School Science Olympiad teams recently competed at the Regional Science Olympiad Competition at Millersville University. This is a nationally held STEM competition where topics range from in depth studies of anatomy, infectious diseases, and ornithology, to engineering projects such as boomilevers, cars, and Rube Goldberg devices. The contests also include team labs, such as experimental design, water quality, and food science, and events that combine both knowledge and application of skills. The Waynesboro Area Middle School was very successful and qualified for the state level competition to be held at Juniata College on April 25, 2020. They will be one of only 36 teams to compete at that event. The top performing teams advance to the National Competition to be held this summer. The Waynesboro Area Middle School finished sixth out of nineteen teams and medaled in seven out of 23 events.

The Board of School Directors for the Waynesboro Area School District has postponed today's Budget Committee Meeting. The meeting has been rescheduled for Tuesday, March 10, 2020 @1:30 PM in the Clayton Avenue Administration Offices Board Room.

n 2018, the Waynesboro Area School District formed a Communications Committee as a means of improving communications between the district, its staff, and our community. Members of this committee are district staff members, parents, and members of the community. Input obtained from surveys sent to families and staff in 2018 and 2019, has been used by the Communications Committee to make recommendations for improvements. Examples of changes made include a new website for the District, a new notification system, BoroBlast, that allows for phone, email, and text messages, and recommendations for informing the community about new initiatives. We are again seeking parent/guardian input about how the district and schools, and teachers are communicating with families. We hope every family will take a few minutes to complete this survey, which can be accessed through the link below. The results of this survey will be shared at a future WASD School Board Meeting and will be used by our Committee and staff to improve communications with our families. We thank you in advance for taking the time to complete this survey.
https://forms.gle/H1bT1kcgjyLdtY548

WASD will be holding a WASD Comprehensive Planning and WASD Wellness Committee meeting on Monday, March 2nd from 5:30-7:00 PM in the WASHS library. Parents and community members are encouraged to attend.

​Join 34 middle schoolers as they travel to Meteorite Inn for a UFO Convention. Who knows what's real or fake as conventioneers show up for a tour of Area 502 and the fun continues! ​Shows will be Friday, February 28th at 7:00 PM and Saturday, February 29th at 11:00 AM. Cost of admission is $5.00 for adults and $3.00 for students. (Pay at the door)

Waynesboro Area Senior High School will be presenting an all-school production of "Hello, Dolly!" sponsored by the Owl's Club of Waynesboro. Shows will be March 13th @ 7PM, March 14th @7PM and March 15th @ 2PM. Tickets are $10 for adults and $6 for children 12 and under.

ESS will be hosting a hiring event for substitute school positions in Franklin County on Wednesday, March 4, 2020 at the Waynesboro Area School District located at 210 Clayton Avenue, Waynesboro, PA 17268 from 10AM-12PM. Qualified candidates will have the opportunity to work in local school districts. Hiring managers will be on hand to answer questions and start your application!

The Waynesboro Area School District will be hosting the second annual "Coming to Kindergarten Celebration!" for children starting kindergarten in the 2020-2021 school year. The event will take place Thursday, February 27, 2020 at their neighborhood elementary school based on home address. Time will be 6:00-7:30 PM (Doors open at 5:45 PM)

A District Parent & Community Advisory Committee for Title I, II, and IV will be held Thursday, January 23, 2020. The purpose of this meeting is to discuss Title IV spending and a schoolwide plan for Title I. This meeting is open to the general public at the WASHS Library from 5:30PM to 6:30PM.

Due to inclement weather, GED classes are canceled at WASHS Tuesday, January 7, 2020.

Come join us for WASHS Pack the House Night and cheer the Indians and Maidens to victory Friday, January, 10, 2020!

Today, Monday, December 16, 2019 The Waynesboro Area School District will be operating on a 2-Hour Delay schedule

Dr. Kline, WASD Superintendent, presented proposed changes to elementary attendance zones at a public meeting on December 3, 2019. Links to the presentation and documents can be found on the District Website under news.

November 18-22 marks the National Education Association's 98th annual celebration of American Education Week. The AEW festivities will honor the team of people who work in the nation's public schools, everyone from the bus driver and classroom teacher to the cafeteria worker and administrative staff, plus countless others. The celebration is also an opportunity for school and community leaders to renew their commitment and support for quality public education for all students.

The WASD Is pleased to share the district has purchased a home in the district to use as a gateway for students with special needs to learn everyday living and community living skills. This great endeavor was made a reality when numerous community members of Waynesboro came together to donate funding for the purchase of the home. The house became an entity of the Waynesboro SD on November 12th, 2019!!
The WASD Athletic Gold Card is available for senior citizens that are residents of the Waynesboro Area School District, 65 years of age or older. Pick up your gold card at the Clayton Avenue office. You must be a resident of Waynesboro to receive the Gold Card. GO BORO!!

On Tuesday Dr. Kline and the WASD Admin Team welcomed all the Faculty and Staff back for the 2019-20 school year. We had special guests from each of our elementary buildings to welcome everyone. Please browse the link below to view the presentation.
https://5il.co/9jn6